HIGHLIGHTS

PLUS!

Merry Christmas!

Group Corporate Affairs wishes everyone around the world in Hong Leong Group a Merry Christmas and a Happy New Year!

It has been an eventful year and we have enjoyed receiving and reading all your wonderful submissions for Hi Life.

Due to the Christmas and New Year holidays, Hi Life will be taking a break in January. We shall see you all again in February 2013.

In the meantime, you can continue to email your stories and pictures to
hi-life@cdl.com.sg

Groundbreaking at museum. Click here to find out more.

Hilary Clinton At The St. Regis Singapore
Ahead of the Asia-Pacific summit in Cambodia, United States Secretary of State Hillary Rodham Clinton arrived in Singapore on a two-day official visit from Friday, 16 November to Saturday 17 November, 2012.
The official visit saw US Secretary of State Hillary Clinton meeting up with Singapore Prime Minister Lee Hsien Loong, Foreign Minister K. Shanmugam, and former Minister Mentor Lee Kuan Yew to discuss critical issues upcoming at the summit. The Secretary of State also delivered a speech on the United States economic strategy, before joining United States President Barrack Obama at the summit in Phnom Penh.
Recognized as The Address for dignitaries, and trusted for delivering bespoke hospitality, The St. Regis Singapore had the privilege of being selected to host the United States Secretary of State and the fifty-five United States delegates with over 200 room nights booked.
The impressive John Jacob Ballroom was also selected as the choice venue for a private and confidential meeting with US Secretary of State Hillary Clinton and more than 200 of the United States embassy staff based in Singapore, on Saturday, 17 November 2012.
With unwavering commitment and dedication, our staff delivered royal treatment to the important delegation, meeting their expectations and beyond. Impressed by the excellence of The St. Regis Singapore team, US Secretary of State Hillary Clinton commended the hotel for the exceptional hospitality she experienced.
The successful hosting of US Secretary of State and the delegation has once again displayed that The St. Regis Singapore is the recognized pinnacle of luxury hospitality amongst Royalties, Head of States and Foreign Dignitaries alike, with a team of excellent staff members to be admired for.
United States Secretary of State Hillary Clinton (dressed in a blue suit) with The St. Regis Singapore Managing Director Ananda Arawwawela (fifth from left) and the Best Team.
Mayfair Welcomes Chinese Delegates
Millennium Hotel London Mayfair recently hosted senior members of the Chinese government and other VIPs while they were staying in the capital. The Chinese delegates were in London for the opening of the 'Contemporary Chinese Seals' exhibition by Li Lanqing, at the British Museum Services. While in town, they also attended several official events which were held at the Millennium Hotel London Mayfair.
Representing the UK at these events were Member of Parliament Mr. Ken Clark, Lord Mandelson, and Lord Powell. Representing China were Ambassador Liu Xiaoming, Commercial Counsellor of the Embassy of China in the UK, Li Feng, and Vice Minister of Ministry of Commerce China, Zhong Shan.
On the first night of their visit, Millennium & Copthorne Chairman Mr Kwek Leng Beng and Chief Executive Officer Mr Wong Hong Ren, hosted a dinner for top VIPs at the recently opened Le Chinois Restaurant and Bar, at the Millennium Hotel London Knightsbridge.
Guests at the dinner included the former Vice Chairman of the Standing Committee of the National People's Congress of China, Mr Cheng Siwei, Vice Minister for the Chinese Ministry of Culture, Ms Zhao Shaohua and Vice Minister, Mr Li Zhiqun. Also in attendance were representatives from key state-owned large enterprises, the Chairman of the board of supervisors, as well as a number of other distinguished VIPs.
Many thanks to Gillian Guo, Regional Director of Sales for Greater China, who secured the business and accompanied the group throughout the visit. She worked alongside the team in the UK to ensure that the visit was a success.
| | |
| --- | --- |
| M&C Chairman Mr. Kwek Leng Beng with Chinese Vice Minister for Ministry of Culture, Ms. Zhao Shaohua at Le Chinois Restaurant and Bar, Millennium Hotel London Knightsbridge. | British Member of Parliament Mr. Ken Clark (in grey jacket) and Chinese Vice Minister for Ministry of Commerce, Mr Zhong Shan on his right, at one of the conferences at the Millennium Hotel London Mayfair. |
Terranium Workshop At M Hotel Singapore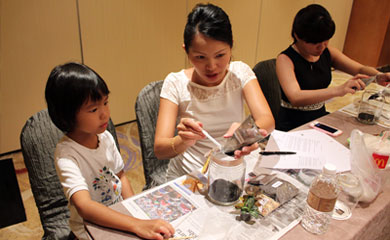 The family-friendly terranium workshop was opened to all M&C members including their children.
M Hotel recently hosted a terrarium workshop for M&C members who tried their hands creating their very own miniature bottled garden. The workshop was certainly an engaging round of fun and entertainment.
Splash Of Colours At CDL's Staff Day 2012
For its Staff Day held on 17 November 2012, CDL staff chose not to put the focus on themselves, but dedicated it to people who needed help the most – all in the spirit of volunteerism and spreading some cheer as the year comes to a close.
Over 200 CDL employees banded together to help brighten the Marsiling neighbourhood as they painted the colourful murals at the fort surrounding the children's playground at Block 3 and 5 Marsiling Road. The hand-drawn murals were themed "Saving the Earth for our Children", and included images of a whale (one of the world's endangered species), an over-grown forest of wild mushrooms, happy children playing amidst nature, and the boundless sea. They were specially designed by teachers and students from the Nanyang Girls' High School.
As staff were meticulously painting, a team of CDL staff doubled up as game masters to entertain kids in the neighbourhood who had gathered at the playground for some fun that morning. The kids took part in games such as "Dog and Bone", charades and a hula-hoop competition, and also took home goody bags containing markers, stationery and a colouring set. Judging by their excited squeals and laughter, it was clear that the children were enjoying themselves thoroughly.
Aside from the action at the playground, another group of CDL staff also helped to refurbish and paint 15 one-bedroom rental homes in Block 3 and 4 Marsiling Road, which are occupied by the elderly and low-income families. Sprucing up these homes was timely for the coming festive season. In addition, families from these 15 homes were also presented with food hampers filled with daily necessities and food items such as cooking oil, sugar, Milo and biscuits. The food trolleys were a small gesture of goodwill that CDL hopes can help these residents, many of whom live on a combined monthly household income of not more than S$1,500.
Mr Goh Cher Chai, 67, who lives with his wife in the Marsiling neighbourhood, was one of the beneficiaries of the refurbishment exercise.
"It's been almost 15 years since my flat was painted and I'm happy to have volunteers here to help today. The newly-painted walls come just in time for the New Year too," Mr Goh said with a smile.
CDL's involvement in the Marsiling community is a partnership with the North West Community Development Council (CDC) under the North West Care & Repair Programme, where the CDC partners with the 3Ps (i.e. People, Private and Public) to improve the lives and social wellness of residents in the North West District. CDL is adopting two rental blocks in Marsiling Road as part of corporate social responsibility.
Mr Kwek Leng Joo, CDL Managing Director, who took part in the paint work and distributed food hampers to the families with CDL's senior management, said: "This Staff Day is a prelude to the gamut of community engagement activities that CDL will be involved in for 2013. Through City Sunshine Club (CSC), our staff volunteer platform, we plan to extend our monthly food distribution and befriending programmes to the needy and elderly residents in Marsiling."
Adding fun to the life of children from disadvantaged families – CDL staff spent its Staff Day adding a splash of colour and fun to the playground. The originally plain walls are now decorated with interesting graphic elements of a whale as well as happy children in bold and captivating hues. Children from the neighbourhood soaked in a fun moment with CDL Managing Director Mr Kwek Leng Joo (centre - fourth from the left) and staff volunteers, as they cheered the kids on.
British Arts Celebration At St. Regis Singapore
The St. Regis Singapore honours Great Britain for the fifth installment in its signature Arts Celebration series, with a 45-day tribute to British culture and the arts, its reverence for tradition, and its unmistakable style.
Purveyors of the uncompromising and exceptional, The St. Regis Singapore has showcased the best culinary, visual and performing arts talents of Spain, Russia, and Japan in 2010, and Italy last year in its series of Arts Celebrations.
This year, a quintessentially British celebration of distinguished proportions will spotlight the United Kingdom, with a British Arts Celebration held at The St. Regis Singapore. Bringing together four world-class artistes at one preeminent address, guests will delight rare experiences crowned in authentic British flavour.
| | |
| --- | --- |
| In partnership with The Royal Academy of Arts London (illustrated above), The St. Regis Singapore is the Official Hotel for "Encounter: The Royal Academy in Asia" exhibition that was presented at Singapore's LASALLE College of the Arts. | A 5-piece art installation of works by British artist Paul Huxley was displayed at the hotel lobby, including the second instalment of his Chinese Works series of paintings and silkscreen prints. The use of intense colour is a continuing characteristic of Huxley's paintings, some even utilizing high pitched fluorescent colours. |
M&C New Zealand Sponsors Bike Trail
Millennium and Copthorne Hotels and Resorts New Zealand is a proud sponsor of the Queenstown Trail Trust. The Queenstown Trail (left), which officially opened in October 2012, is a spectacular 90km mountain bike trail. Riders will be taken alongside pristine rivers and lakes and beneath mountain ranges, focusing on three distinctive destinations - Queenstown Bay, historic gold-mining town of Arrowtown and Gibbston, renowned wine growing district.
"Italian Cooks Aboard" Launch At Millennium Abu Dhabi
A group of Italian women's love for cooking has resulted in a book entitled "Italian Cooks Abroad". Inspiration for this little cook book of thirty recipes came about during the ladies' monthly cooking group meet ups, where they shared their recipes from different regions of Italy.
The book is available in both English and Arabic as the ladies wanted the ingredients and methods of the mostly, Italian recipes to be more readily understood by readers, as well as made accessible in terms of what is available locally. The ladies wanted to document family recipes inherited from their grandmothers and so their little "big" dream was materialised when they launched the book at the Millennium Hotel Abu Dhabi.
Proceeds from the book will be donated to charity.
General Manager Ruprecht Schmitz (middle) and Director of PR & Communications Nevine Albert (third from right) showing their support.
Pastry Creativity At Thailand's Food Carnival 2012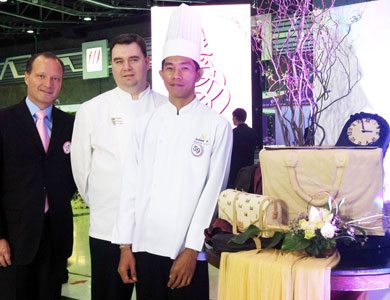 From left: Grand Millennium Sukhumvit's General Manager Thomas Christiansen, Executive Chef Pierre Andre Hauss, and Chef Suchard Watjarasit.
Pastry Chef Suchard Watjarasit of Grand Millennium Sukhumvit was recently invited by 'Thai & International Food Technological College' to join the Food Carnival 2012, and showcase his contemporary-designed in an exhibition at The Mall Department Store. This event was graced by Thailand' Princess Soamsawali.
The event showcased some of the cake and bakery creations from many hotels, plus entertainments, cooking classes and food tasting.
Chef Suchard also displayed his fantastic marzipan decorated cakes in shapes of bags and vintage-grandpa clock to make a unique piece catching a new trend of vintage theme party.
Moya Moya Summers
Orchard Hotel recently hosted a group of celebrities - Comedian Ohtake Kazuki, Comedian Mimura Masakazu, and Presenter Oe Mariko. They were in Singapore for a TV programme, Moya Moya Summers 2, to shoot various places of attraction in Singapore as a popular Japanese tourist destination. Below is more information on the show.

M&C Benefits From Singapore-China's Sichuan Trade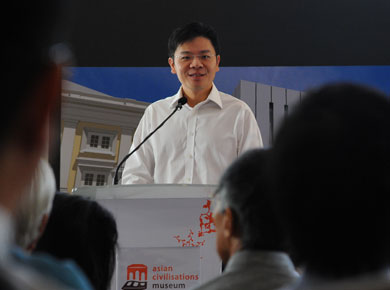 Singapore's Acting Minister for Culture, Community and Youth, Mr. Lawrence Wong seen here at an earlier event.
Business between Singapore and China's Sichuan province is booming, and Singapore companies are well-positioned to benefit as this economic hub in Western China continues to expand.
Hong Leong Group Singapore's Millennium & Copthorne Hotels (M&C) is one of Singapore's firms that continue to be heavily involved in Sichuan's infrastructural development. This includes the ongoing work on the integrated development of the Millennium Waterfront International Community, a 1.9 million square metre project that will occupy a 270,000 sq m plot of land for residential apartments, offices, retail space and a convention centre.
As Sichuan moves towards an innovation-led economy, there will be more opportunities for Singapore companies to provide innovative solutions in modern manufacturing, modern services and modern living," said Mr Lawrence Wong, Acting Minister for Culture, Community and Youth, who began a three-day visit to the province yesterday.
Mr Wong, who also co-chairs the Singapore-Sichuan Trade and Investment Committee, noted that some Singapore companies had a head start in benefiting from these key growth areas in Sichuan, which registered a 12.8-per-cent expansion in gross domestic product in the first three quarters of this year, higher than China's national average of 7.7 per cent.
With 456 business projects in Sichuan as of September, Singapore is currently the fifth-largest foreign investor in the province with total cumulative investments of S$3.1 billion, according to the Sichuan Department of Commerce.
Exemplary Builders Honoured At The 8th CDL 5-Star EHS Awards
The 8th CDL 5-Star Environmental, Health and Safety (EHS) Awards ceremony was held on 31 October 2012 at the W Singapore – Sentosa Cove.
The event was graced by Guest-of-Honour, Mr Hawazi Daipi, Senior Parliamentary Secretary, Ministry of Education and Ministry of Manpower. The annual Awards seek to recognise CDL's builders for their exemplary performance in EHS.
The Awards comprised three categories, and winning builders had to attain consistently high 5-Star EHS audit scores over a one-year period and/or meet the award category criteria.
For the first time as well, CDL expanded its award scope to include a new "CDL Workers' Welfare Award" category. The Award recognises builders who are committed and have taken deliberate efforts to create and provide a safe, hygienic and congenial place for its workers to reside in. This inaugural Award went to Dragages Singapore Pte Ltd for two of its CDL projects – Cube 8/ 368 Thomson and Blossom Residences.
Nabbing the "CDL EHS Excellence Award" was Ssangyong Engineering & Construction Co for W Singapore – Sentosa Cove and Quayside Isle; while Dragages Singapore Pte Ltd won it for Cube 8 and 368 Thomson.
The last category, the "CDL Productivity Excellence Award", was awarded to Tiong Seng Contractors (Pte) Ltd for Shelford Suites and Dragages Singapore Pte Ltd for The Residences at W Singapore – Sentosa Cove.
The Awards, which was first introduced in 2005, is an integral part of the CDL 5-Star EHS Assessment System – an independent audit tool to assess, measure and improve builders' EHS management and performance. Pioneered in 2001, CDL was the first private developer to proactively structure a comprehensive, audited and appraised approach towards EHS involving all its builders.
Each quarter, all CDL builders undergo EHS inspections and audits conducted by an independent EHS audit firm recognised by the Ministry of Manpower to appraise the builders on a scale of 1-5 stars. The results are presented to the top management of the builders during the quarterly CDL 5-Star EHS Seminars. These seminars are a valuable platform to promote sharing of best practices and peer learning to encourage better EHS performance amongst the builders. The Assessment System and Awards have been instrumental in influencing and encouraging CDL's builders and consultants to monitor and improve their EHS performance.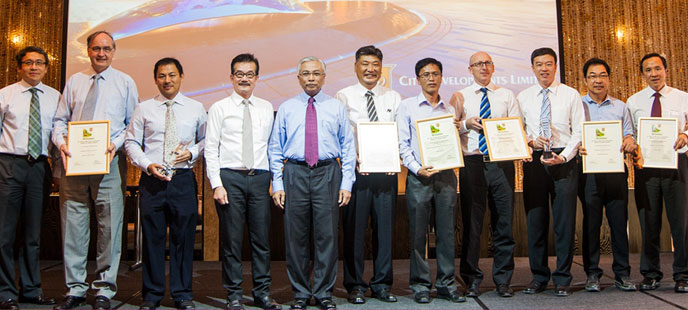 The winning builders and CDL staff pose for a picture with Guest-of-Honour Mr Hawazi Daipi, Senior Parliamentary Secretary, Ministry of Education and Ministry of Manpower (fifth from left) and CDL Group General Manager Mr Chia Ngiang Hong (fourth from left).
Steinway Recital With Hong Leong Finance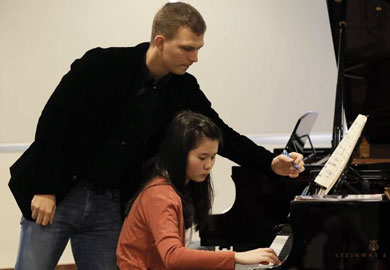 Renowned concert pianist Adam Gyorgy conducting a master class followed by a special recital on the sought-after Steinway & Sons baby grand piano.
Hong Leong Finance (HLF) has teamed up with Steinway Gallery Singapore to offer special financing plans for music teachers. This means the dream of owning a Steinway piano – popularly regarded as the "Rolls Royce" of pianos – can now be a reality for music teachers. Steinway instruments are known for their quality, durability and high residual values.
The special piano ownership plan was recently introduced during Nurturing The Artist Within, a master class with renowned concert pianist Adam Gyorgy. The customised ownership plans will also allow teachers to take a loan of as much as 75 percent of the purchase price on low interest rates with repayment tenures of up to five years. Mr Gyorgy himself got his first Steinway through a loan, saying that it was "one of the best investments".
Under the Steinway umbrella of pianos are Steinway & Sons, Boston (for the mid-level market), and Essex (for the entry-level market).
The last of HLF celebratory offers that were rolled out throughout November, is the Reunion Fixed Deposit promotion that is valid for both individual and corporate accounts using fresh and existing funds. A fixed deposit of at least $30,000 earns one competitive interest rates of up to 1.35% for 24 months.
All customers will also receive a tureen, dubbed as the yuanbao or ingot, a prosperous symbol.
HLF President Ian Macdonald said, "In today's tough climate, we hope to continue to bring competitive rates with flexible options and bring more joy to the season of sharing and merry-making."
New Zealand's Copthorne Rotorua Rebranded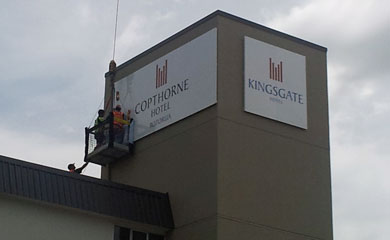 Changing the signage from "Kingsgate" to "Copthorne Rotorua".
Millennium & Copthorne Hotels New Zealand (MCHNZ) has just rebranded the Copthorne Hotel Rotorua, having received a new four-star rating for the hotel from Qualmark, New Zealand tourism's official quality assurance organization.
The 110-room hotel is located in the resort city of Rotorua in the central North Island, a key tourist destination for international visitors, and close to well-known and exciting attractions such as the geothermal highlights at Devil's Gate and the Polynesian Spa, traditional Maori arts and crafts exhibitions and trout fishing.
The hotel sits on a prime site of over 3 hectares and boasts an outdoor heated swimming pool, spas, children playground, tennis court and the popular Jimmy Cook's Restaurant.
Not forgetting the hard work of the hotel staff, MCHNZ Managing Director, Mr. Boo Keng Chiu said, "A lot of detail, planning and elbow grease went into the rebranding. They run a gamut from signage change to website updates and even stationery. The housekeeping team also did a lot of cleaning and painting to give the hotel its fresh and modern look. But thanks to the hard work of our staff, we have doubled our bookings for December in comparison to last year!"
The rebrand from Kingsgate to Copthorne is part of MCHNZ 's progressive improvement policy and over recent years has seen Kingsgate hotels in Wellington, Queenstown and now Rotorua transformed from 3-star to modern and competitive 4-star hotels.
Opening Of Millennium Amman In Jordan
Millennium Hotel Amman is the latest addition to M&C's hotels.
Millennium Hotel Amman in Jordan recently celebrated its maiden opening with a ribbon-cutting ceremony witnessed by a number of VIPs of diplomats, businessmen, media figures and socialites. Witnessing the event was Jordan's Minister of Tourism Mr. Nayef Al Fayez, Minister of Labour Mr. Nidal Qatameen, as well as M&C's Vice President of Operations for the Middle East and Africa, Mr. Manfred Simons.
Situated in Shmeisani - Amman, Jordan, the five-star deluxe business and lifestyle hotel has 21 floors and 178 guest rooms and suites offering magnificent views over the vibrant city of Amman, with two floors reserved for non-smokers.
Restaurants, bars and entertainment facilities are also available such as the Fattoush Restaurant for traditional Lebanese cuisine, Toshi International Restaurant for Asian cuisine, Atrium Café, Havana Cigar Bar, Sky Lounge, and many more.
Dr. Majid Alsadi, Chairman of Eastern Investment Group Holding, the owning company of Millennium Hotel Amman said, "We are proud to take this successful first step in this vital industry to bring forth a beautiful product with unsurpassed quality and highest standards.
The traditional hospitality of Jordan is exemplified through luxurious international standards showcased by the work of the project's designers, such as the work of the Italian Marco Consonni, the elegance of French interior design by Charles Glain of IDS design architecture firm and utmost comfort with furniture that hails from famed British master craftsman Christopher Guy (Harrods of London)."
Catering For World Golfer Rory Mcllroy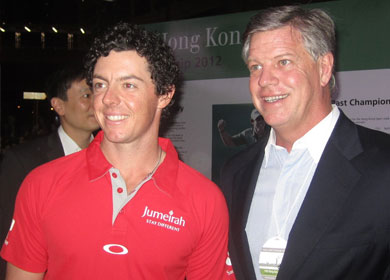 World No.1 golfer Rory Mcllroy (left) with JW Marriott Hong Kong General Manager, Mark Conklin (right).
JW Marriott Hotel Hong Kong had the privilege to be the official caterer and hotel company of the UBS Hong Kong Open Championship 2012, which was held from 15 to 18 November at the prestigious Hong Kong Golf Club. Golf enthusiasts had the chance to catch many famous golfers live in action, including the current world's number one, Rory Mcllroy.
Millennium Biltmore Is Host Hotel For China Southern Airlines
China Southern Airlines which utilizes the Millennium Biltmore as its L.A. crew host hotel, celebrated the inaugural deployment of its A380 on its Los Angeles route from Guangzhou at the Biltmore at a recent Gala Event (right).
The A380 is currently the largest four-engine jetliner. The airline's Chief Operating Officer Zhang Zifang spoke at the Gala about how the increase in capacity shows the airline's commitment to the U.S. market.
China Southern has been flying to Los Angeles for nearly 15 years, and 37 percent of flights from China to the US fly into LAX. The airline's operations in Los Angeles bring an estimated 3,000 jobs to the city. China Southern is the largest state-run airline in China. It carried more than 80 million passengers last year.
BritCham Networks With CDL At Tower Club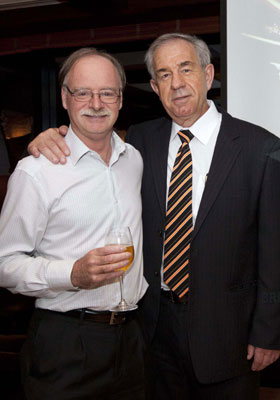 F1 commentator for STAR Sports, Steve Slater (left) and Tower Club General Manager, Peter Schori.
Every year, the British Chamber of Commerce organizes a networking event on the Thursday prior to the F1 weekend. As many corporate gear up to treat their clients and partners to the F1 excitement, the Chamber invites its members and guests to network and join the pre race excitement. This year, the event was held in collaboration with CDL & Tower Club which has breathtaking views of the illuminated Grand Prix track and the Marina Bay area.
To make the evening more enjoyable, the Chamber also invited several F1 related public figures to speak at the event. This year's guest speakers were Steve Slater who is a Formula One commentator for STAR Sports and columnist for espnstar.com, and Mark Dickens, the official F1 Artist.
Mark Dickens was commissioned by Bernie Ecclestone to make 20 paintings, one for each race in 2011. The Commission was to showcase the beauty and dynamism of each host city/circuit, blending the unique world of Formula 1 with the cultural and architectural significance of each city. Mark shared his experiences, races, drivers and art with the members and guests.
After a short break, Self-confessed 'petrol-head' Steve Slater who started in motor racing first as a 'hopeful' amateur driver, then as writer and commentator talked about the importance of teamwork and reliability in F1. Steve also gave an update on the races and the engines which was followed by a Q&A session. Slater is a qualified light aircraft pilot and owns an aircraft restoration company. He is popularly known as voice of Formula One in Asia.
A Taste Of Arabia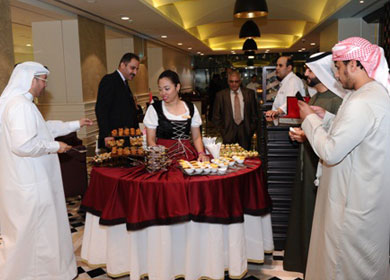 Guests enjoyed pre-dinner Arabic food
When Al Mashrabia Restaurant opened its doors to the public at Millennium Plaza Hotel Dubai, it became Dubai's first restaurant to serve local Emarati and other Arabic food in a five star hotel environment.
Delectable authentic Arabic cuisine was prepared to the delight of more than 100 invited guests, including the hotel owners, Khalid Al Attar family, who are Emaratis themselves and who personally received guests displaying the essence of true U.A.E. hospitality.
"Memoirs From The Big Top" At Millennium Abu Dhabi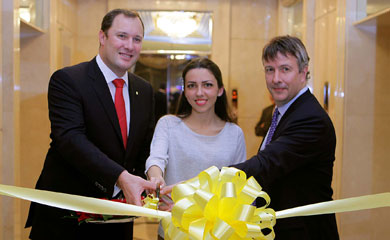 (From left) General Manager Mr Ruprecht Schmitz, British artist Ms Melanie Stones and Chairman of British Business Group Mr Richard Oliver
Richard Oliver, Chairman of British Business Group, along with Ruprecht Schmitz, General Manager Millennium Hotel Abu Dhabi recently inaugurated "Memoirs From The Big Top" art exhibition by British artist Melanie Stones, where 20 of her great works using acrylic and oil paints on raw and primed canvas, were showcased to a big crowd of businessmen, diplomats, media, and art lovers.
The 25-year-old Briton artist, has lived and visited many countries around the world taking in what she can from the beautiful wildlife of Johannesburg, the landscapes in Toronto, the street life in Palermo, the people of Ethiopia, the architecture of London and the heritage in Abu Dhabi.
Delta 360 Lounge Opens
The Delta 360 Lounge (left) at the Millennium & Copthorne Hotels at Chelsea Football Club has opened its doors to business. The fashionable space is the perfect meeting point for breakfast, lunch or dinner and everything in between. Sumptuous pastries from the bakery, barista Nesspresso coffees made to order or Jing tea for the connoisseur of the leaf, visit us at your leisure, at your convenience. Order from the menu a burger or authentic pasta and compliment your lunch or dinner with our hand-picked selection of wines or beers from around the world. Relax with all this and your International newspaper or interactive TV screens.
Congratulations
Recognising CDL's Green Efforts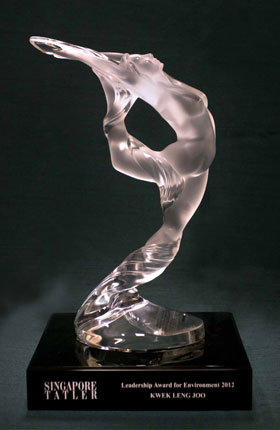 CDL Managing Director Mr Kwek Leng Joo was awarded The Singapore Tatler Leadership Award for Environment to recognise CDL's steadfast commitment in sustainable business practices and as a leader in green building.
CDL Managing Director Mr Kwek Leng Joo was conferred The Singapore Tatler Leadership Award for Environment during the Singapore Tatler Ball 2012, held on 9 November, to celebrate Singapore Tatler's 30th anniversary.
The Singapore Tatler Leadership Award for Environment, which was first given out in 2009, recognises individuals or businesses with the foresight to make environmental preservation and protection the backbone of the organisations they helm.
Mr Kwek, who accepted the award via a video acceptance speech, said: "Back in the 1990s, we were aware that the building industry was considered to have caused a negative impact on the environment. As a major developer and landlord, CDL believed that we could make a difference and lead the change. 'Conserving as we construct' became our ethos and since then we began championing the development of green buildings and sustainable business practices. We have never looked back since and sustainable development has remained one of our top priorities. I firmly believe that a successful corporation is not founded on business achievements alone, but also by the positive role it can play towards environmental sustainability."
Under Mr Kwek's leadership, for over a decade, CDL has been incorporating and integrating CSR policies in its business operations, developing and managing properties in an energy and cost-efficient manner while influencing various stakeholders and supply chains through outreach initiatives. Typically, CDL invests between 2% and 5% of the construction cost of a new development on green building design and features. As Singapore's green property pioneer, CDL has to its name 62 Building and Construction Authority (BCA) Green Mark developments – including 21 Green Mark Platinum projects (the highest status for green buildings in Singapore) – the most for a private developer on both counts.
Copthorne Hotel Dubai Scoops Best Employer Award
Catererglobal's Global Account Director, Mr. Jeremy Vercoe (extreme left) and International Sales Director Mr. Peter Willis (extreme right) poses with Copthorne Dubai's proud winning team (from left): General Manager Mr. Alaa Salameh, Chief Executive of HSI (holding the trophy), Mr. Tony Graham; Director of Rooms, Mr. Shady Dawad; HR and Training Manager, Ms. Imelda Martinez.
Beating off tough competition, the Catererglobal Best Employer Award in the category of small 4-star hotels in UAE was bagged by Copthorne Hotel Dubai.
The awards in their second year are voted on by hotel professionals, and the Best Employer accolade is seen as an endorsement of management and HR policies of the hotel.
According to General Manager, Alaa Salameh, the inaugural awards set tough standards to beat, and the achievement this year was even more rewarding given the level of competition among UAE hotels: "We have the best of the best in terms of hotels in Dubai and elsewhere in the country, and for Copthorne Hotel to win out when the bar was set so high is a sign we are becoming an employer of choice in the hospitality sector," he said.
"Any team works better when all members are engaged in their roles and thrive and strive to serve the customer well – and we can see the result in the customer satisfaction levels too."
The Catererglobal Best Employer Awards are judged by an employee engagement tool provided by partners, learnpurple, and sponsored by Reed Hospitality and Leisure, Glion and Hospitality Search International - the group is a leading recruitment web site for executive jobs in luxury hotels, resorts and cruise ships around the world and is part of the UK's Totaljobs Group Ltd.
The Copthorne Hotel Dubai features 188 rooms and suites, three restaurants, five meeting and banquet rooms and a business centre, outdoor pool and fitness centre.
Best Wedding Hotel In Xiamen
Millennium Harbourivew Hotel Xiamen recently received the "The Best Wedding Hotel in Xiamen" award by Sina.
The activity "Perfect Honeymoon Season"was launched by Sina Xiamen, more than 20 Xiamen hotels were participate in and more than 1 million persons were involved into vote for the best Xiamen wedding hotel. Millennium Harbourview Hotel Xiamen won the accolade with its excellent wedding banquet services and well-known public praise in Xiamen city.
At the same time, the hotel was also featured in M&C's Outstanding Services Experience (OSE) "Pick of the Cherries" stories for consistently providing excellent service to guests. The following note from a guest shows how much the M&C service was appreciated:
"Our event in your hotel was very well-run yesterday. Thanks for your full support and your team, including catering team, and especially the young boy Scotch Yao and his supervisor from artwork department are really great! Very pleased to work with you." - Cheryl Wen, Senior Manager of Nielsen.
General Manager of Millennium Harbourview Hotel Xiamen, Mr. Simon Jim, was happy to receive the compliment, "Well done team! You have made us proud! I am sure your efforts have proved to be worthwhile. Let's keep up a good work."
The banquet and catering team stands proudly in line with "The Best Wedding Hotel in Xiamen" award.

Millennium Xiamen's winning OSE team (from left): Senior Sales Executive, Ms.Jessie Li; Assistant Sales Manager, Ms. Sophia Wu; Director of Sales, Ms. Wendy Ji; Senior Artist, Mr. Hutai;
Artist Mr. Scoth Yao.
GCW Receives "Hotel Security Excellence Award 2012"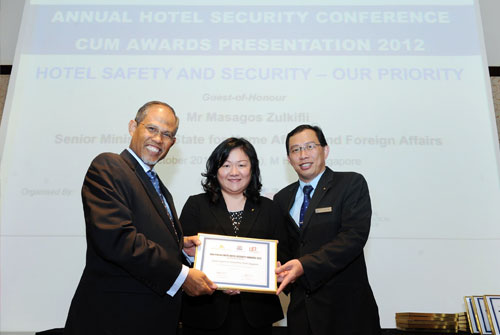 Grand Copthorne Waterfront Hotel (GCW) was recently conferred with the "Hotel Security Excellence Award 2012". The award was jointly presented by the Singapore Hotel Association, the Singapore Police Force and the National Crime Prevention Council. Ms Alice Ee, Assistant General Manager of GCW (middle) and Mr Poh Liong Yan, Safety & Security Manager of GCW (right) were on hand to receive the award from Mr Masagos Zulkifli, Senior Minister of State, Ministry of Home Affairs & Ministry of Foreign Affairs (left).
Porto Bello Emerges As Abu Dhabi's Best Italian Restaurant
Porto Bello Restaurant (left) of the Grand Millennium Al Wahda has emerged as Abu Dhabi's "Best Italian Restaurant" in Time Out Abu Dhabi Restaurant Awards 2012, a yearly event that rewards the best of the best in the culinary industry.
Atef Elias, General Manager of Grand Millennium Al Wahda Hotel, said, "It's difficult to express in words my joy in receiving the recognition during the Abu Dhabi Restaurant Awards 2012. This is another well-deserved addition to the awards that our restaurant has already achieved."
Porto Bello has built an excellent reputation with its chef supremacy in culinary creativity. Its fan base of regular guests can certainly vouch on the success throughout its 2 years operation.
Elegant and inviting, Porto Bello offers Italian fare with flair. With the best quality ingredients and a modern take on traditional Italian favourites, Porto Bello has rapidly gained a loyal following. Those who think Italian food is always hearty and heavy can think again as Porto Bello's menu includes options to suite all different tastes including a special healthy range of delectable dishes suitable for diabetics.
Summer In The Bay Of Islands
Jason Hall (right), Executive Chef at Copthorne Hotel & Resort Bay of Islands, and a fishing enthusiast, recently won a fishing competition with this amazing snapper which weighed in at 10.10kg. The passion for fishing runs in the family as Jason's son also won the children's division too.

Celebrations At Beijing Riviera
Beijing Riviera, a residential property development by Hong Leong Holdings in Beijing, China, recently celebrated St Martin's Day (top left) with more than 200 children and their families.

Jointly organized with the German International Community, the children made paper lanterns and walked through the Riviera neighbourhood together singing songs in their native language.

After the walk about, the children returned with their parents to enjoy a traditional German feast prepared at the Clubhouse by Riviera chefs.

Halloween is also a big celebration at Beijing Riviera. The Annual Halloween Buffet and Costume Contest (bottom left) has become a hugely popular event at the Clubhouse, attracting families and children from the entire compound, and demonstrating the diversity of the Beijing Riviera international community.

In addition to ghosts, witches, spidermen, and scary monsters, some Riviera staff were also spotted in costumes! Many thanks to our F&B team, who provided the sumptuous buffet and decorations for the guests to enjoy on this festive evening.
Macy Gray Tweets "Wonderful Stay" At Mayfair
Grammy Award singer, songwriter, record producer and actress, Macy Gray (right) was so impressed with the service and hospitality at the Millennium London Mayfair Hotel, she tweeted, "Loved staying at @Mill_Mayfair during my stay in London".
Macy Gray stayed at the hotel for three days when she was invited to performed with saxophonist David Murray's big band in a blues-and-soul session which included covers from metallica, Kanye West, Willie Dixon, alongside some of her own tunes.
Macy Gray has sold over 15 million albums worldwide and won two Grammys with one of the most successful singles of all time, "I Try".
Dessert Time With Pastry Chef Chee Leong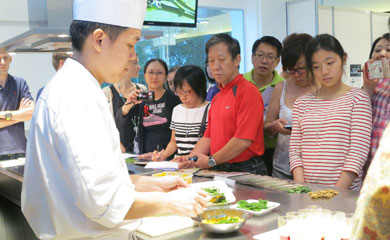 Chef Chee Leong giving a demonstration of how to prepare his delicious raspberry, walnut toffee and mango verrine.
In conjunction with culinary magazine Appetite, Orchard Hotel Singapore organised a cooking class to showcase Pastry Chef Chee Leong's mouth-watering desserts.
Chef Leong presented a gluten-free Verrine. This is a dessert presented in glasses, consisting of a layer of raspberry compote, a layer of crunchy walnut toffee followed by mango infused mascarpone cream and fresh mango cubes and elderberry marshmallows. Due to overwhelming response, Chef Leong had to conduct 3 classes and he managed to turn around each session in just 30 minutes!
Hotel Nikko Hongkong Lights Up For Christmas
Organised by the Tsim Sha Tsui East Association, the Tsim Sha Tsui East (TSTE) Festive IIIuminations Switch-on Ceremony (right) saw Hotel Nikko Hongkong welcome the festive season with sparkling decorative lightings and delectable gourmet. Mr. Wilson Ho, Controller of Hotel Nikko Hongkong officiated the ceremony along with Hong Kong Tourism Board's Chairman Mr. James Tien, Hong Kong actress Ms Charmaine Sheh and representatives from hotels and properties of the TSTE area.
The hotel's restaurants and bars launched a splendid array of international cuisine for this festive occasion. From sumptuous buffets at Café Serena to romantic candlelit dinner at Les Celebrites and all-you-can-eat dinner at Sagano to festive cocktails at Sky Lounge, Hotel Nikko Hongkong has just what you are looking for. For Reservations, please call +852 23134268.
Millennium St. Louis Hosts Miss Missouri Teen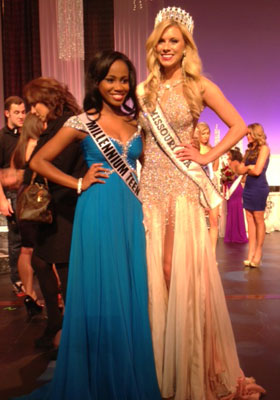 Miss Millennium Teen Meonaka Ware (left) and Miss Missouri USA.
The Millennium Hotel St. Louis recently hosted the 30th Miss Missouri Teen 2013 pageant which saw 90 delegates across Missouri, USA vying for the crown. The three-day event included photoshoots for the swimsuit and evening gown competitions, as well as a "Welcome Gala" that saw much media hype surrounding the property.
Our own Miss Millennium Teen, Meonaka Ware, 17, of North St. Louis represented our hotel last weekend beyond all expectations. In her first attempt at the state-wide Miss Missouri USA 2013 crown, she placed fifth as the fourth runner-up. With her platform/community service, interview, evening gown and winning the fourth runner-up position, she received US$49,600 in scholarships to attend nearby Lindenwood University. She impressed other pageant directors, and will now compete in Miss America's Outstanding Teen and Miss American Teenager.
"On Sunday afternoon, I had no chance, I thought of getting a college degree, now thanks to the Millennium Hotel sponsorship I know I can achieve my goals," said Meonaka.
Meals & Deals
A Christmas Fairytale At Orchard Hotel Singapore
Orchard Hotel Singapore welcomes you to its Amorpho Fairyland Cottage surrounded by colourful fairies and toadstools, along with Clock Tower's Magic Tree and fairy lights! Bring a smile to the faces of your loved ones with unique new creations, traditional favourites and other tasty delights from Orchard's Goodies House. On top of that, be tempted by our feasts whipped up for you at Orchard Café and Hua Ting, or organise a get-together at one of our elegant ballrooms. Your every need will be fulfilled with us this Festive season!

Fill your Christmas table with a delightful mix of festive goodies from the Fairyland Cottage for a hearty celebration! For a classic turkey with a twist, opt for Hua Ting's Cantonese Roasted Turkey stuffed with Herbs and Spices.

Enjoy a 20% early bird discount for your Festive feasting at Orchard Café, when you confirm your reservations by 10 December 2012.

For more information on Orchard Cage's festive buffets and menus, Christmas Eve buffet, please call Fairies' Hotline at 6739-6577 or 6739-6666 for Hua Ting Restaurant.
Tis' The Season With M Hotel Singapore
Christmas Table around the Office
Parties are a great time to bond and share. Add panache to your parties with some help from us. At S$448+, your dream Christmas celebration comes true without a fret. Don't be surprised! We may even bring Santa to your doorstep!
Free Delivery to addresses within Central Business District.
Disposable party ware and serviettes will be provided.
Additional orders from our Festive Goodies (available upon request) will be entitled to a 20% discount.
New Year's Eve Party, 9pm – late
J Bar will be ringing in the New Year but it will definitely do so with as much zest and style. Rounding off the year, guests can partake in the Black and White themed countdown.
S$85++ Adult (Free flow of beer, wine, champagne and standard housepours from 9pm – 12am) OR S$30++ Adult (2 Standard Drinks)
Merry Stays At Studio M
Every single day in December matters! Studio M Singapore has the best Merry Stays "wrapped up" and presented to you! From 1st December – 31st December 2012, experience an unforgettable merry like no others at Studio M from S$268++ per night.

The Merry includes daily buffet breakfast for 2 persons, complimentary Italian sparkling wine for 2 persons, complimentary broadband and WiFi and complimentary late check-out at 4pm.
Wine & Dine Under The Stars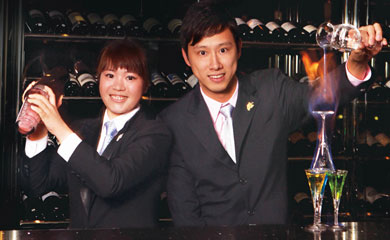 Watch Katrina Lau (left) and Sam Chong (right) in action as they whip up special cocktails at the Sky Lounge, Hotel Nikko Hongkong.
Hotel Nikko Hongkong's award-winning Chief Sommelier Sam Chong, and Assistant Sommelier Katrina Lau (recently awarded second runner-up at the "Best Sommelier Greater China 2012" competition), have put together the "Wine & Dine under the Stars" menus featuring four selective vintages paired with four fabulous combos.
Available until end of December, the "Wind & Dine under the Stars" set menus are priced from HK$450 (for 2 persons), plus 10% service charge.
Join Sam and Katrina for a fun cocktail night from 9:00pm to 11:00pm every Thursday at Sky Lounge. For reservations, please call 2313 4245, or book online at www.hotelnikko.com.hk, or drop by Sky Lounge on the 15th floor of Hotel Nikko Hongkong, 72 Mody Road, Tsimshatsui East, Kowloon.
Festive Celebrations At Grand Millennium Sukhumvit
A delectable range of festive gourmet choices and an array of joyful activities await at Grand Millennium Sukhumvit to fill up your magical moments.
Visit the Atelier for a festive buffets or a 5-course dinner spread at Tapas Y Vino with specialties from Spain. On Christmas Day, dig into tasty brunch buffet that includes plenty of holiday favourites. Santa will drop in with treats for the young ones.
For more information or reservations, please call +66 2 204 4123.
A selection of festive full of Christmas specialties and goodies is also available, and make perfects gift for your friends, family and acquaintances. Create your own hamper from our selection of Christmas goodies, cakes, wines, and assorted sweets and treats available at FlourWorx.
For more details, please contact + 66 2 204 4152.
Ring In 2013 With Style And Fun In The US!
From Boulder, Colorado to The Big Apple, M&C hotels offer New Year's Eve packages to ring in the New Year that are too appealing to pass up. Here is a sampling of Millennium's New Year's Eve Packages in the US.
Millennium Broadway Hotel New York
The "New Year's Eve in Times Square" package includes accommodations in a luxurious guest room with your choice of Cityscape, Times Square, or Ball Drop views, a bottle of Washington State Sparkling Wine plus breakfast for two. Available from December 27 to January 2, 2013, the package starts at US$599 per room per night based on double occupancy. Package rates for the Ball Drop Rooms start at US$939 per room per night. Use code NYEVE when booking online or by phone at 212-768-4400.
ONE UN New York
Celebrate at ONE UN New York, formerly known as the Millennium UN Plaza Hotel with the "Ring in the New Year" package that includes a bottle of Champagne, gourmet chocolates, and in-room private breakfast for two. Rates start at US$299 per room per night based on double occupancy for a four-night minimum stay beginning December 29. Use code NYE when booking online or by phone at 212-758-1234.
Millennium Harvest House Boulder
Count down to 2013 at the foot of the Rocky Mountains with spectacular views over Boulder Creek Path with the "Millennium Rocks the Ages" at the Millennium Harvest House Boulder. Package includes overnight accommodations in a double room; admission to "Funkiphino," Colorado's funk sensation concert; New Year's Eve dinner buffet dinner for two; a Champagne toast at midnight; and breakfast for two at Thyme on the Creek Restaurant. Rates start at US$300 per room based on double occupancy. Use code NYE1 when booking online or by phone at 303-443-3850.
Millennium Knickerbocker Hotel Chicago
Make it a romantic New Year's Eve at the beautiful and historic Millennium Knickerbocker Hotel with the "Suite Celebration" package. It features overnight accommodations in a one bedroom suite plus a private, five-course prix fixe meal for two on December 31st served in the suite. Priced from US$459 per suite per night, based on double occupancy. Use code SUITENYE when booking online or by phone at 312-751-8100.
Millennium Hotel St. Louis
Let us arrange your New Year's Eve revelry on the banks of the Mississippi River in the heart of downtown St. Louis when you book the Millennium Hotel St. Louis' "2012 New Year's Eve Celebration" package. Featuring overnight accommodations in the hotel's North Tower, and a festive New Year's Eve party including a five hour open bar with delicious hors d'oeuvres, Champagne toast and balloon drop at midnight. Priced from US$329 plus tax per couple. Use code NYE when booking online or by phone at 314-241-9500.

For more information and reservations on these New Year's packages , please visit
http://www.millenniumhotels.com/usa/specials/us-newyearseve-packages.html
Timeless And Exquisite Festive Traditions At St. Regis Singapore
Make every celebration truly memorable with extraordinary gourmet offerings and hand-crafted treats from The St. Regis Singapore this Christmas and the New Year. Combining traditional classics and seasonal marvels for the most discerning of connoisseurs, be pleasantly surprised as you rediscover timeless epicurean pleasures in a whole new light.
The St. Regis Singapore promises an exclusive festive experience with celebratory menus and bespoke service from its three restaurants – refined French cuisine at Brasserie Les Saveurs, authentic hearty Italian at LaBrezza, and classic Cantonese innovations from the award-winning Yan Ting.
For entertaining at home with custom elegance, indulge from an extensive range of European delights and seasonal takeaways from Brasserie Les Saveurs and The Drawing Room.
Unwind amidst the vintage allure of the Astor Bar, with festive cocktails specially concocted for the season at The St. Regis Singapore. Or rejuvenate your senses in the midst of the holiday bustle with some well-deserved pampering bliss at Remède Spa.
In tandem with the spirit of meaningful Christmas giving, The St. Regis Singapore will be raising funds for the Very Special Arts (VSA) Singapore. The VSA aims to provide individuals with disabilities the opportunity to access the arts for rehabilitation and social integration.
Encouraging all guests to be part of this charity drive, The St. Regis Singapore will be adding a nominal S$1 to the bill at all restaurants, bars and for festive takeaways in the month of December. The full amount raised will go towards VSA, and guests have the option to pass on the contribution if they prefer to not to participate.
For more information or to make a festive dining reservation, please contact Dining Reservations at (65) 6506-6866, email dining.singapore@stregis.com or visit www.stregissingapore.com
| | |
| --- | --- |
| Roasted duck with sautéed potato, baby vegetables and cherry jus. | St. Regis Christmas logcakes. |
Double The Pleasure & Rewards With M&C Loyalty
Heel Before Me
Hong Leong Foundation Donates To Extension Of Asian Civilisations Museum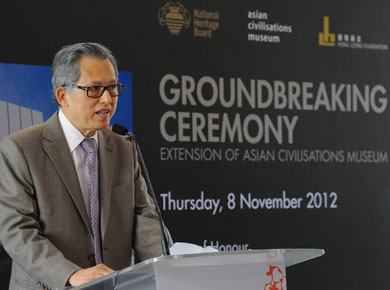 Hong Leong Foundation Governor Mr. Kwek Leng Beng gives his opening address.
As part of its ongoing efforts and commitment to promote the understanding and appreciation of Chinese art and culture, Hong Leong Foundation made a second donation amounting S$5 million for the construction of a new wing at the Asian Civilisations Museum (ACM) in Singapore.
ACM is dedicated to exploring the rich artistic heritage of Asia, especially in Singapore's ancestral cultures.
Part of the donation will be used to acquire artefacts associated with the Fujian culture in order to expand the collection of Chinese objects. This will allow audiences to make connections with the areas which gave rise to trade and immigration.
The first donation was made in 2001 for the establishment of ACM's China Gallery, named after the founder of Hong Leong Group, the late Mr. Kwek Hong Png who drove the Group's philosophy that corporations should give back by paying it forward.
"By working with the Asian Civilisations Museum, we hope to be able to inform and educate future generations about the roots of our forefathers. The Fujian culture is especially meaningful to me as my late father was born in that region. He came to Singapore at the age of 16 but never forgot his roots. He used to share with us about Fujian, its rich culture and fine art. We hope that through our donation, we are able to share this rich culture and educate Singaporeans on their roots, especially those with forefathers from Fujian," said Mr. Kwek Leng Beng, Governor of Hong Leong Foundation. He is also the Executive Chairman of Hong Leong Singapore.
From left: ACM Director, Dr. Alan Chong; ACM Chairman, Mrs. Lee Suet Fern; NHB Chairman, Mr. Ong Yew Huat; Acting Minister for Culture, Community and Youth, Mr. Lawrence Wong; Hong Leong Foundation Governor Mr. Kwek Leng Beng and his wife Mrs. Cecilia Kwek; NHB Chief Executive Officer, Mr. Michael Koh.

UK Home Secretary Visits Copthorne Slough-Windsor For Charity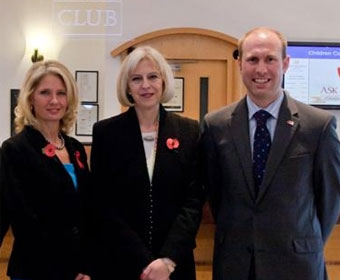 Business Development Manager Mr. Mark Bannister (right) with Age Concern Chief Executive Ms. Tracey Morgan (left) and UK Home Secretary Ms. Theresa May (centre).
Copthorne Slough-Windsor recently supported Age Concern's 2012 Annual General Meeting, which took place in the Windsor Suite. Age Concern is an independent local charity committed to improving the quality of life of local people, their carers and families, so that they can enjoy a better life in later years.
There were a number of high profile guests, which included local MP's, Mayors and the Chief Executive from Age Concern. Maidenhead MP and Home Secretary Ms Theresa May was one of the guests. It was an exciting day, which saw the hotel buzz with activity as sniffer dogs and police surveyed the grounds before guests arrived.
Separately, the hotel recently worked with the Hospitality & Catering students at Westgate School and taught them skills like making non-alcoholic mojitos, serve canapés, carving vegetables into flowers, and folding napkins. They were then brought to a 'Meet & Greet' session at the Learning to Work event hosted by 02, where the students can showcase their newfound skills. O2 is a leading provider of mobile services in UK.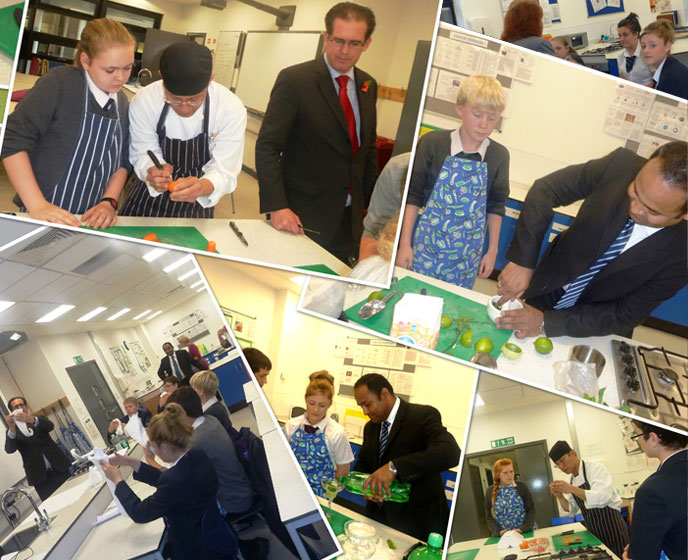 Staff working closely with Westgate School's Hospitality & Catering students to help link them to the "real" working world.
Trail Walking, Saving Water
Oxfam Trailwalker is one of the largest fundraising sporting events in Hong Kong with the aim of raising funds to support Oxfam's poverty and emergency relief projects in Africa and Asia. Staff from SkyCity Marriott, The Ritz Carlton, and our own JW Marriott Hong Kong participated in the 100km MacLehose trail walk within 31 hours.
Continuing with their commitment to the environment, the JW Marriott Hotel Hong Kong's Nobility of Nature committee recently launched a monthly "No Food Tray Day" at the staff canteen. This is move to further promote water conservation amongst hotel staff. A date will be chosen each month and there will be no food trays for the day during meal times. The 1st "No Food Tray Day" was held on November 8 with overwhelming response and support from the associates. The committee will measure the monthly water savings and review the programme regularly for improvements.
| | |
| --- | --- |
| Staff representing JW Marriott HK at the Oxfam Trailwalker 2012 | To encourage water saving amongst hotel staff, the "No Food Tray Day" will be held as a monthly campaign. |
Grand Millennium Sukhumvit Supports Underprivileged Children
Grand Millennium Sukhumvit recently donated proceeds raised from over 300 staff in the hotel and other donation items including stuffed toys, stationery and snacks to Fico Pattana Foundation. The money will be contributed to underprivileged students in Ban Pong Wua Daeng School in Nakhon Ratchasima Province.
The Fico Pattana Foundation was founded by Fico Corporation Co. Ltd. who owns Grand Millennium Sukhumvit Hotel.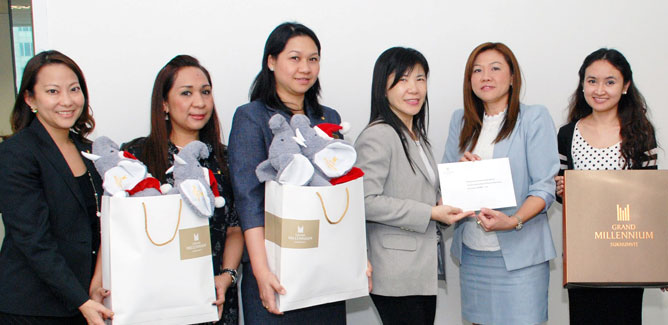 From left: Sukrita Chomdhavat, Director of Marketing Communications, Grand Millennium Sukhumvit; Melanie Goenchanart, Training Manager, Grand Millennium Sukhumvit; Parichart Khemsri, Human Resource Manager, Grand Millennium Sukhumvit; Piyapat Putthijirapat, Director of Finance, Grand Millennium Sukhumvit; Pannee Pipatpratueng, Executive Committee, Fico Pattana Foundation; Amaralak Khaphondi, Secretary of Fico Pattana Foundation.

Getting to Know You

In each issue, we cast the spotlight on one of the business sectors that make up the global world of the Hong Leong Group

Key Officers

Chia Ngiang Hong
Group General Manager
chianh@cdl.com.sg

Anthony Chia
Director
(Projects)
ChiaAnthony@cdl.com.sg

Daniel T'ng
General Manager
(Properties & Facilities Management)
DanielTng@cdl.com.sg

Corinne Yap
Deputy General Manager
(Marketing / Leasing)
CORINNE@cdl.com.sg

Mark Fong
Deputy General Manager
(Branding & Strategic Marketing)
MarkFong@cdl.com.sg

Quayside Isle

City Developments Limited (CDL)'s latest retail development, Quayside Isle (QI) is exclusively situated in Sentosa Cove – one of the world's most exclusive marina residential communities and is the first and only F&B and retail destination within this luxury waterfront precinct that will cater to the well-heeled residents, affluent hotel guests and trendsetters.

Located next to the newly-opened W Singapore – Sentosa Cove hotel and the luxurious The Residences at W Singapore – Sentosa Cove, QI will offer more than 20 exciting concepts with a good selection of specially curated new-to-market restaurants, new dining concepts from established groups, and specialty retail stores, over a retail space of more than 40,000 square feet.

With its unique location and the diversity of the Sentosa Cove community which consists of residents, hotel guests, business executives, locals and tourists, QI will offer a diverse gastronomic selection for all occasions.

Making its debut in Singapore will be Japanese restaurant EZOCA. Conceptualised with Omotenashi (which means hospitality in Japanese) in mind, the seating capacity of up to forty customers will allow for intimate interactions between the chef and the customers, offering a genuine Japanese hospitality experience.

Another eatery is casual Australian-style outlet GRILLADO, which will serve its signature flat roasted Portuguese-style grilled chicken paired with a variety of special blended sauces, burgers, fresh yogurt with fruits and muesli as well as Mexican churros. ROLLERS DINER, a halal sandwich bar offering mouth-watering Doner Kebabs will dish out freshly baked Turkish pita bread straight from the fire stone oven and kebabs made from premium meat, prepared with spices specially imported from Germany. For those looking to catch the latest sporting actions, COVE STADIUM is a casual sports bar and bistro that serves drinks alongside grilled and barbequed meat, sausages and seafood, perfect place for catching up with friends.

QI is also the choice destination for established groups to feature new dining concepts. From the group that pioneered the introduction of Cuban-themed restaurants to Singapore, PARADISO RESTAURANT & BAR will be a brand new dining concept with a refined Mediterranean and Spanish menu, from tapas to the traditional paella and an expansive drinks menu, all enjoyed in an intimate rustic-chic setting. To add an edge to their current concepts, Italian Gelateria-Bar-Lounge NOTE DI SICILIA will offer more Italian products such as cheese, cold cuts and Italian salads in addition to its fresh daily made gelato, sorbetti, Sicilian granite, signature cocktails and frozen shooters. Spanish tapas bar Sabio will be offering an authentic tapas experience along with an additional grill menu at SABIO BY THE SEA, TAPAS & GRILL with an airy, spacious and relaxed ambience. Featuring a Trattoria instead of a Locanda, SOLEPOMODORO TRATTORIA-PIZZERIA at QI will offer a more comprehensive menu with premium ingredients and a wider wine list while maintaining the authenticity of its home-cooked Italian recipes.

QI has also attracted established names that will be extending their food offerings to Sentosa Cove. From the Emmanuel Stroobant group, Belgian bar and bistro BRUSSEL SPROUTS – BELGIAN BEER & MUSSELS will bring over 20 varieties of freshly cooked mussels and 180 Belgian bottled beer labels and Picotin will be opening PICOTIN EXPRESS which will offer home delivery and catering services for the Sentosa Cove community. Another established name will be all-day dining café KITH, bringing a comprehensive menu of breakfast, salads, sandwiches, pasta and gourmet coffee.

QI's gastronomic offerings will be complemented by a trove of thoughtfully curated specialty stores including JASONS THE GOURMET GROCER, marketplace for niche, epicurean brands from around the world, LITTLE PROVENCE offering a comprehensive range of gourmet products from Southern France, THE STRAITS WINE COMPANY boasting a well-stocked wine cellar and bespoke services, and HERA BEAUTY SALON providing head-to-toe pampering with hair, nails, make-up and wedding consultancy services.

The opening of QI puts the finishing touch to the marina lifestyle precinct that CDL had envisioned for this integrated development when the site was awarded in 2006 based on the unique design proposal. QI is slated to be the new crown jewel of Singapore's idyllic Sentosa Island and is a key development that will enliven and complete this prestigious enclave.

With an enchanting location, panoramic views and a host of gastronomic delights, Quayside Isle is set to be the Capri of Southeast Asia. It allows visitors to experience a unique getaway without having to leave Singapore. It also provides the perfect magical setting for lovers to romance, families to celebrate, and special occasions to be remembered.

Incidentally, QI is also designed and built with environmental sustainability in mind. QI features numerous green innovations, which is expected to result in an annual overall savings of energy and water. This development is awarded with the Building and Construction Authority (BCA) Green Mark Platinum, the highest rating accorded to green buildings in Singapore.

QI is part of the integrated luxury enclave at Sentosa Cove, which comprises The Residences at W Singapore – Sentosa Cove, W Singapore – Sentosa Cove hotel and QI.



Hi Life! is produced by Group Corporate Affairs.
Join our mailing list by sending your name, company and email address to hi-life@cdl.com.sg
Group Corporate Affairs
Hong Leong Group
9 Raffles Place, #36-00 Republic Plaza, Singapore 048619
Tel: +65 6428 9309
Fax: +65 6534 3060
Email: hlgca@cdl.com.sg
Website: http://www.hongleong.com.sg